Stay Connected
Cloud VoIP services for residential, business and enterprise users in Australia. Integration with CRM for increasing sales and loyalty of clients.
Virtual PBX phone system
Advantages
---
Full access to the system
Install third party software
Easy and friendly web interface management
Fully secured and protected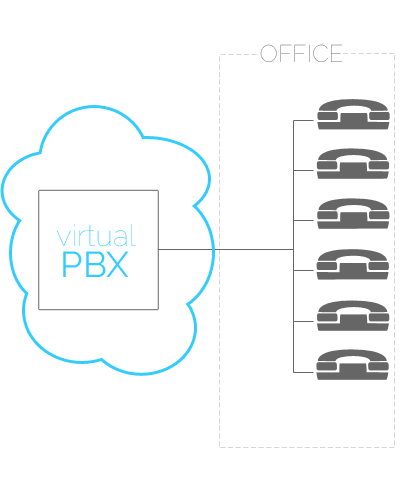 For Who?
---

Virtual PBX provides businesses and distributed workforces with the ability to control where their calls get sent and how they're handled. With professional personal greetings, customizable phone menus, flexible extensions, and full voicemail service, get both a professional image and control of your calls. Dedicated PBX is full-featured, flexible and mobile.
Traditional on-site phone systems typically require dedicated hardware, software, and a technician to maintain and upgrade the system. If you think that a virtual phone system should be located on-site as you have personal information on the server this is not a problem. We can supply and configure any type of virtual pbx phone systems. This virtual PBX will have our specialised PBX software which allows you to make moves, ads, and changes in a phone system.
VirtualPBX also offers full call monitoring and reports, easy management tools, and superior connection quality. By having your phone calls go through a virtual PBX, you can get them routed to any place, any phone, and any time. If you prefer to work from home, virtual phone systems makes it sound like you have a personal office. If you have more than one office, dedicated PBX has you covered. You can have a virtual office and blend home and work to gain efficiencies in both. Do not hesitate to give us a call and know more about virtual phone systems you can have.